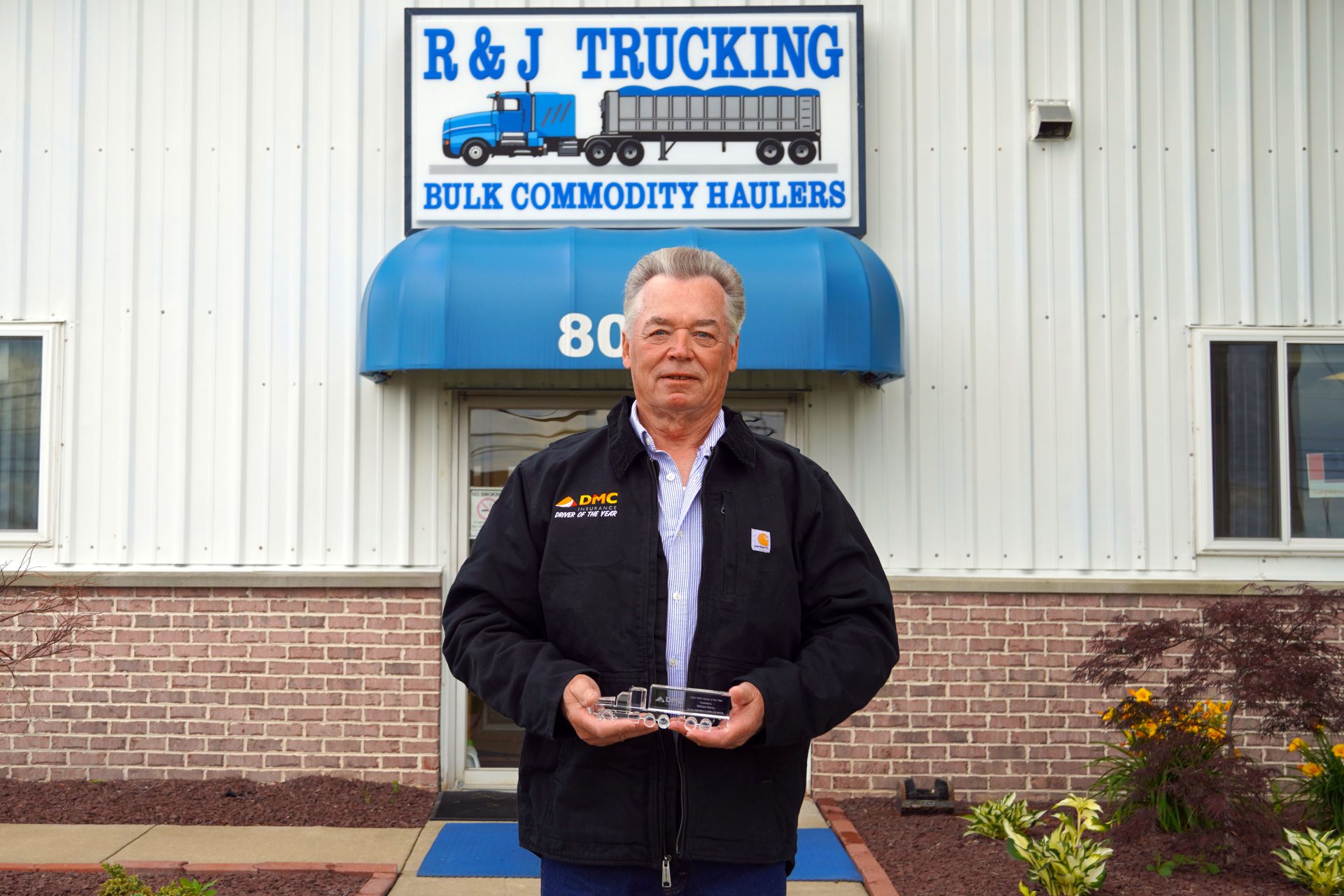 CONGRATULATIONS
BILL KERRY
DMC'S 2020 DRIVER OF THE YEAR!
William "Bill" Kerry of John Brown Trucking, a subsidiary of American Bulk Commodities, Inc., has been selected as DMC Insurance's Driver of the Year. The winning driver is chosen as someone who exemplifies a commitment to safety, provides exceptional service and leadership, and gives back to the community and industry.
Bill has been a professional truck driver since 1965 without having a single accident or moving violation citation. For over 50 years, he has done over-the-road hauls from the Pittsburgh area into the Carolinas, Ohio, Indiana, Michigan, Kentucky, and West Virginia. John Brown Trucking specializes in the hauling of alloy, scrap metal, construction materials, and other industrial products. At the age of 73, Bill continues to haul these loads daily, moving to local routes in Pennsylvania and Ohio just in the last two years. He is a true professional and has been a strong role model to his peers. Bill was nominated for the Driver of the Year award by his Terminal Manager, Harry Frelin. Harry passionately championed Bill as deserving of the honor, writing a heartfelt essay to accompany his application. Harry's been with John Brown Trucking for 20 years, after spending 20 years as a driver himself. He understands the intricacies of what it takes to be a safe driver, and every day he notices Bill's attention to the little details and ways of operating that make all the difference. His appreciation of Bill was perfectly summarized when he said, "If I only owned one truck, Bill Kerry would be the first driver I would ask to drive it."
Read Full Nomination Essay
"Bill Kerry, Bill, now 73 years young, has been driving trucks since 1965, that's not a typo! It's 1965! He started at John Brown Trucking in 1980. Bill is old school and these 55 years of experience certainly show. Bill's safety record speaks for itself, I am not aware of Bill ever having an accident. Many things go into being safe, like details. I see Bill's attention to details every day, even the small details that make a difference. Bill is a true professional and takes a lot of pride in his job. That pride is a big factor for making Bill the excellent driver he is. Not only does he keep the cleanest truck in the fleet, he keeps it mechanically sound.
A big compliment is when drivers talk about other drivers, and when they do, Bill's name always comes up in highest regard. Bill never hesitates to lend a hand to any of the other drivers whether a new driver or one with more tenure, whether helping them with something simple as paperwork, washing their truck or even tarping. The knowledge he shares with other drivers is most valuable, as they all pertain to being a safe driver, everything from company policies, mechanical details and all of the latest safety features our trucks are equipped with.
When you think about when Bill started driving in 1965, there have been so many changes he has been a part of in the industry through all of those years. Remember trucks weren't as safe back then as they are today, yet Bill has been able to adapt to all of the changes and remain a safe and courteous driver.
There is something to be said when you can't count the millions and millions of safe driving miles you compiled in your career. This is really something that shouldn't go unnoticed. We can use data and document many aspects of safety, but there are so many other things related to safety in a driver's daily duties that go undocumented.
Being in management, I see Bill Kerry perform these duties every day. If I only owned 1 truck, Bill Kerry would be the first driver I would ask to drive it. Bill has conducted himself in a safe and professional manner for 55 years, which is unprecedented in the trucking industry today. Winning this award would be a great way to put an exclamation point on an exceptionally safe and stellar career. This is why Bill Kerry should be considered for the DMC Driver of the Year!"
– Harry Frelin, Terminal Manager at John Brown Trucking, a subsidiary of American Bulk Commodities, Inc.
Harry Frelin, Terminal Manager of John Brown Trucking, with Bill Kerry, the DMC 2020 Driver of the Year.
On Wednesday, June 24, 2020, representatives from DMC Insurance, along with American Bulk Commodities' executive team, were on site at the R & J Trucking, also a subsidiary of American Bulk Commodities, Inc., headquarters in Youngstown, OH to present Bill Kerry the award. "We started the Driver of the Year Award as a way to give recognition to the safe drivers of our insureds that really go above-and-beyond to positively impact the trucking industry," stated Stacy Renz, Vice President of Sales & Marketing at DMC Insurance, Inc.  "The drivers nominated have exceptional safety records while also making the effort to be leaders in their companies and their communities. There are so many great people that work every day to make our supply chain operate smoothly, and we just wanted to show our appreciation for their efforts."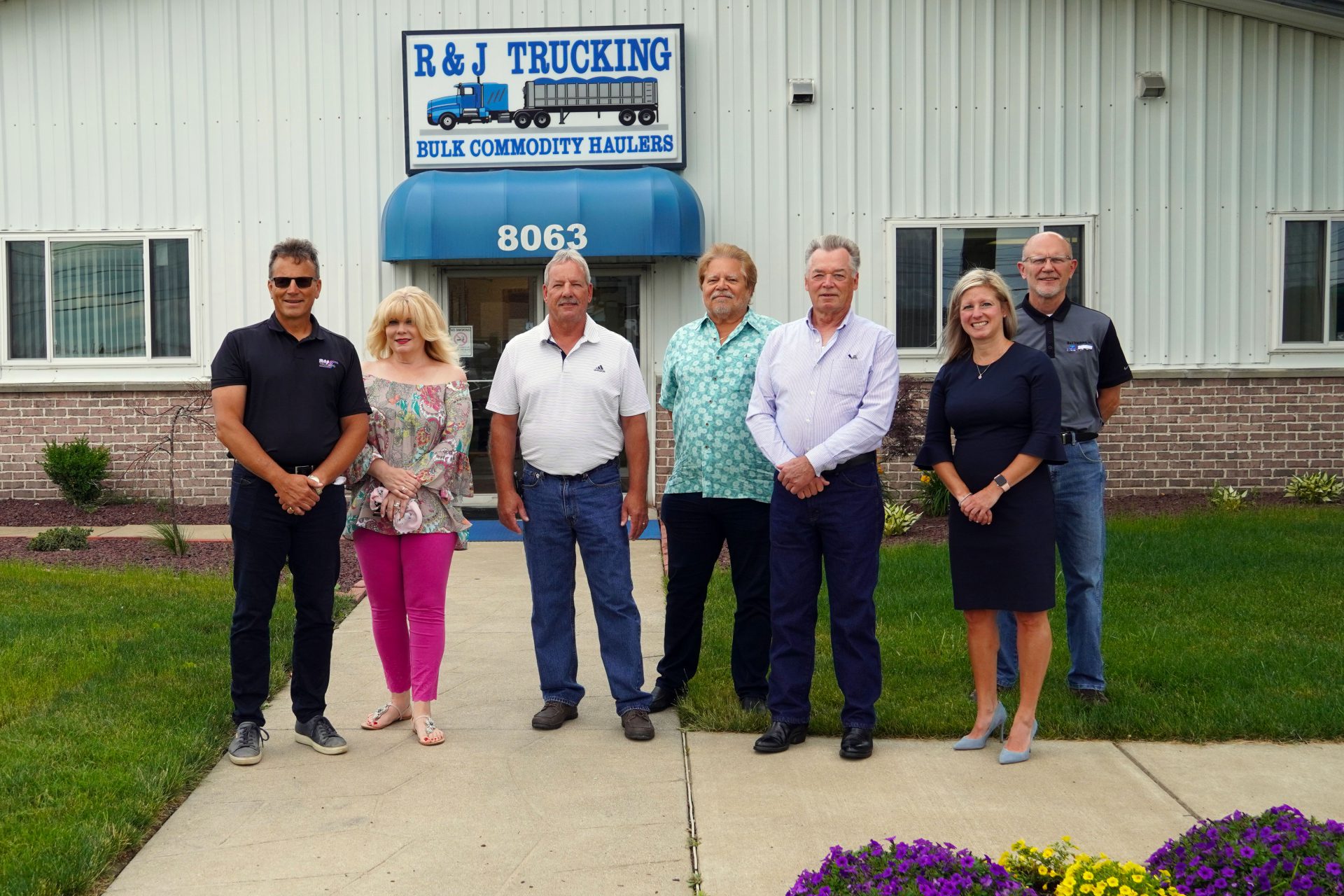 Left to right: Mark Carrocce, President of American Bulk Commodities, Inc.; Anne Marie Naples, Safety Director; Harry Frelin, Terminal Manager at John Brown Trucking; Gary Carrocce, Vice President of American Bulk Commodities, Inc.; Bill Kerry, Driver of the Year; Stacy Renz, Vice President of Sales & Marketing at DMC Insurance; Rob Reed, VP of Finance at American Bulk Commodities, Inc.
Bill has an exceptional safety record and his dedication to passing on the knowledge and expertise he's gained over his career to novice drivers was a big aspect of why he was selected for this award. When asked what Bill would tell a new driver starting out today, he advised, "I'm always constantly aware of my surroundings. Constantly. I don't get in a hurry. I've found that those that get in a hurry, that's when a lot of problems come up. Through the years, I just go at my own pace. Be patient. Something can happen just in the blink of an eye, I've seen it happen too many times. Just be patient."
Congratulations to Bill and the entire American Bulk Commodities, Inc. team for this much-deserved recognition. Drivers like Bill make us exceptionally proud to be a part of this great industry, and it was our honor to partner with our insured to show our appreciation for all the work and effort he has put in during his 55-year career in trucking.
Thank you to all of the 2020 nominees for your dedication to safe driving!
We were extremely impressed with the caliber of drivers that were nominated by our insureds. Each and every one deserves recognition for their hard work, safe driving, and commitment to the trucking industry. Below are several of the impressive drivers and companies that participated in this year's award.
DMC had a blast hosting a Tabletop Football "kicking" competition at the 2020 Truckload Carriers Association's Annual Convention in Kissimmee, Florida this past March. We invited convention attendees and industry partners to step up to the table to see how many...
read more
DMC was honored to sponsor this year's Master Truck Driver (MTD) Awards at the IMTA's annual Safety & Maintenance Council Awards Banquet that took place in March. This award acknowledges the outstanding safety record of each driver. Our own Brian Runnels was...
read more
Keep Informed Of The Latest Updates & Events
View Past Newsletters
PDF versions of all previous DMC Newsletters are available for download.
Join Our Newsletter
Subscribe to the DMC Newletter to hear more about DMC, our products and services, and our engagement with the industry.